ENTER →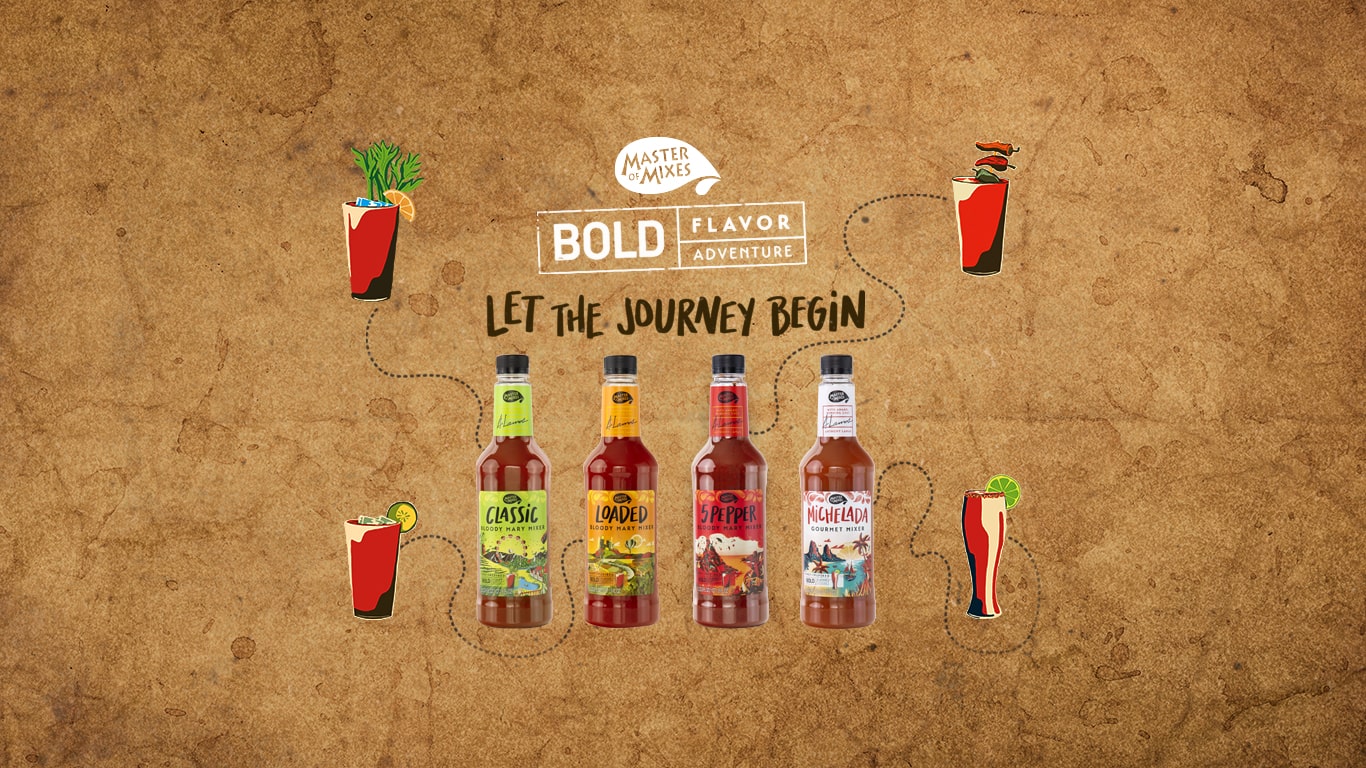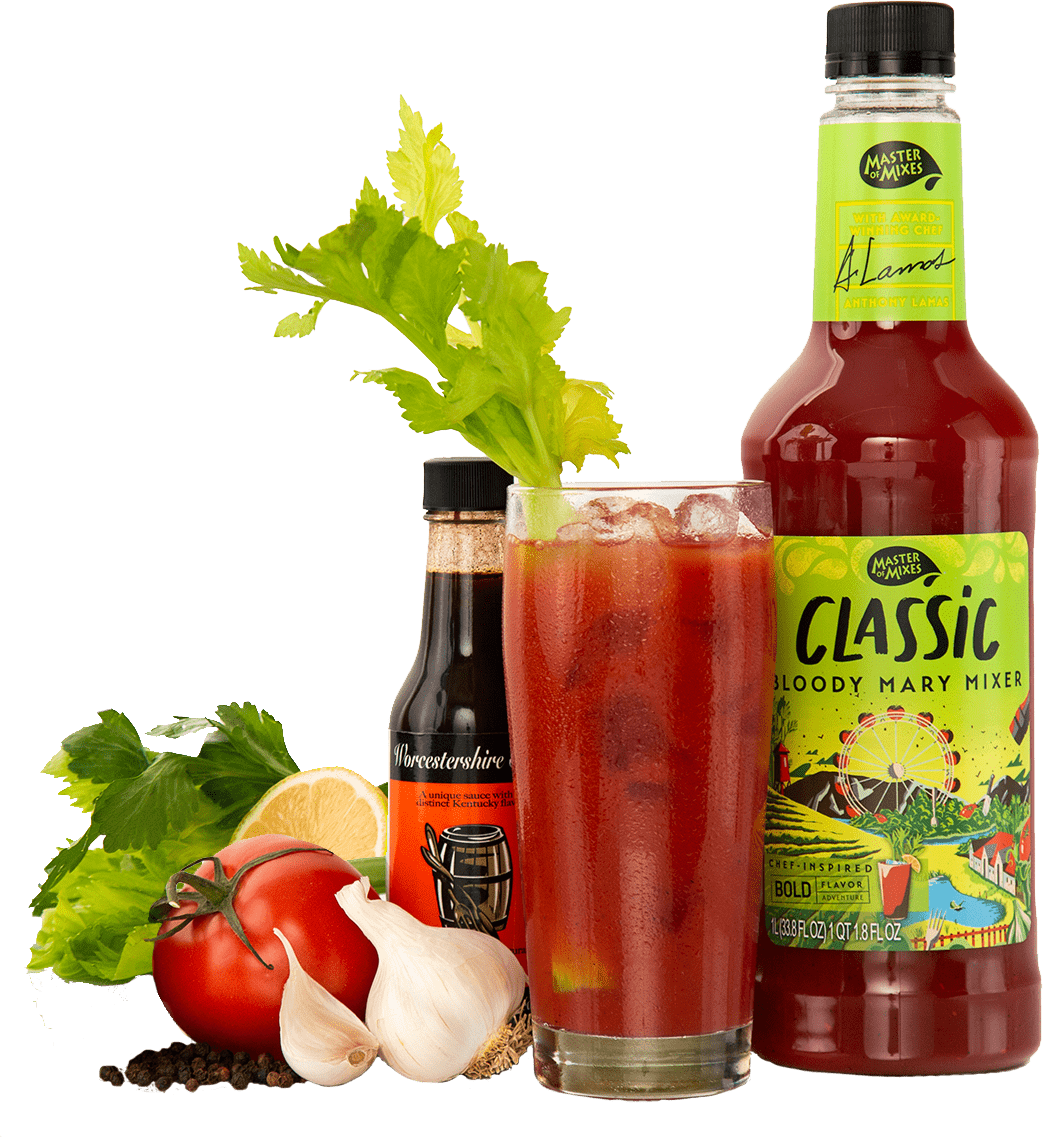 "Light and tangy traditional recipe"
A classic: premium Roma tomato juice, cayenne pepper, lemon juice, black pepper, and Worcestershire sauce.
A nod to the original recipe that made this cocktail famous at the turn of 20th Century, Master of Mixes Bold Flavor Classic Gourmet Bloody Mary Mixer is our traditional take on this world-famous classic. This universally accessible Bloody Mary mixer packs a ton of flavor and top-notch taste because of our steadfast commitment to using only the freshest, high-quality ingredients in every single batch.
"Classic puts a refreshing twist on the traditional bloody mary with strong, bold flavors that stand up to the vodka while allowing the tomato and sharp savory notes to shine through." -Chef Anthony Lamas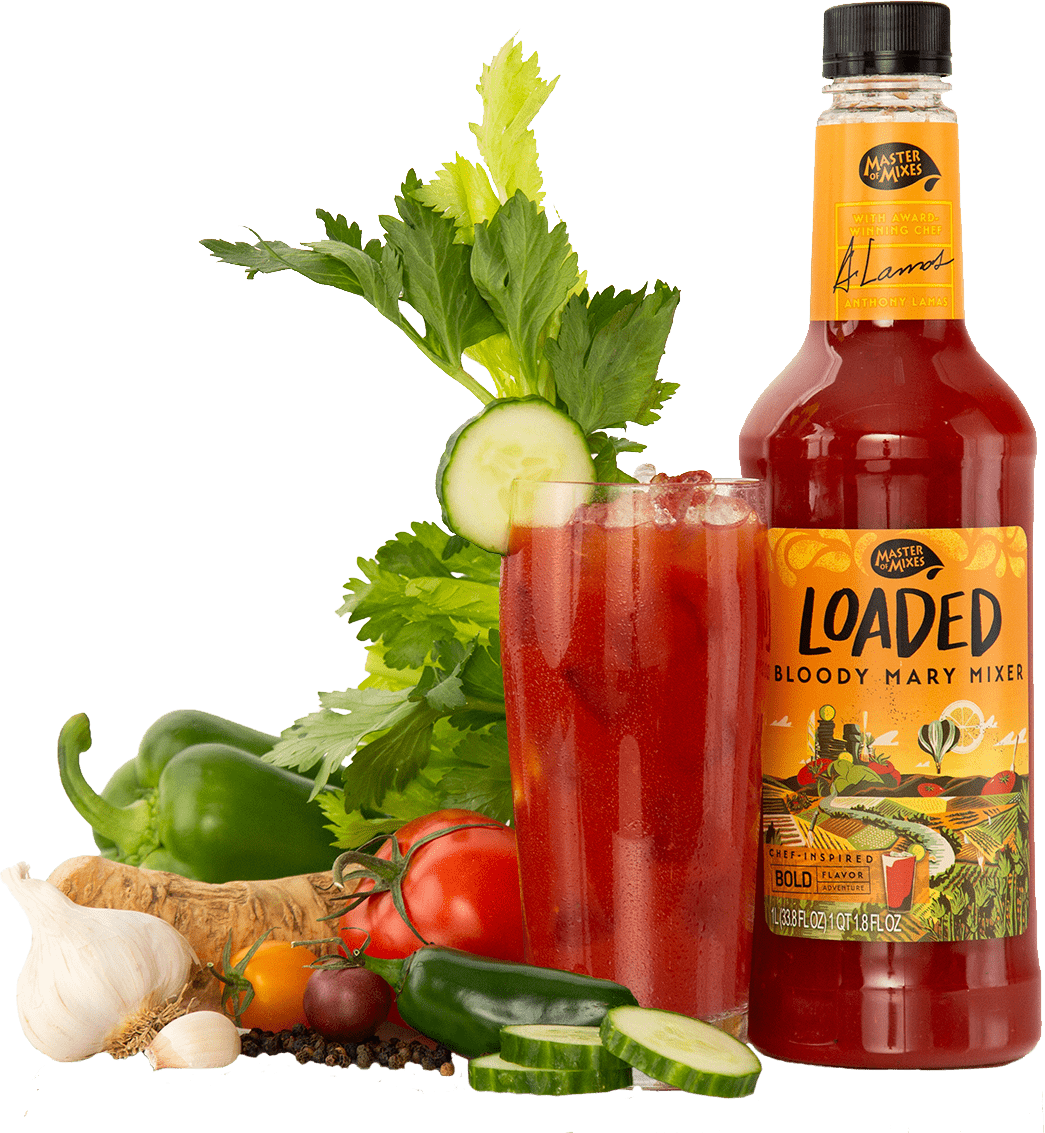 "Everything but the Kitchen Sink"
Loaded with fresh horseradish, cracked black pepper, diced jalapeños, and a hint of fresh cucumber, finished with a citrusy twist.
Master of Mixes Bold Flavor Loaded Gourmet Bloody Mary Mixer is our more flavorful, culinary take on the traditional Bloody Mary profile we like to refer to as a "Culinary Mary". Packed with added vegetables and citrus notes, this mixer provides an explosion of flavors without overwhelming the palate for a concoction you simply can't find anywhere else.
"Loaded introduces abundant layers of flavor by combining the boldness of horseradish and savory peppers with the bright garden flavors of cucumber, celery, and citrus." -Chef Anthony Lamas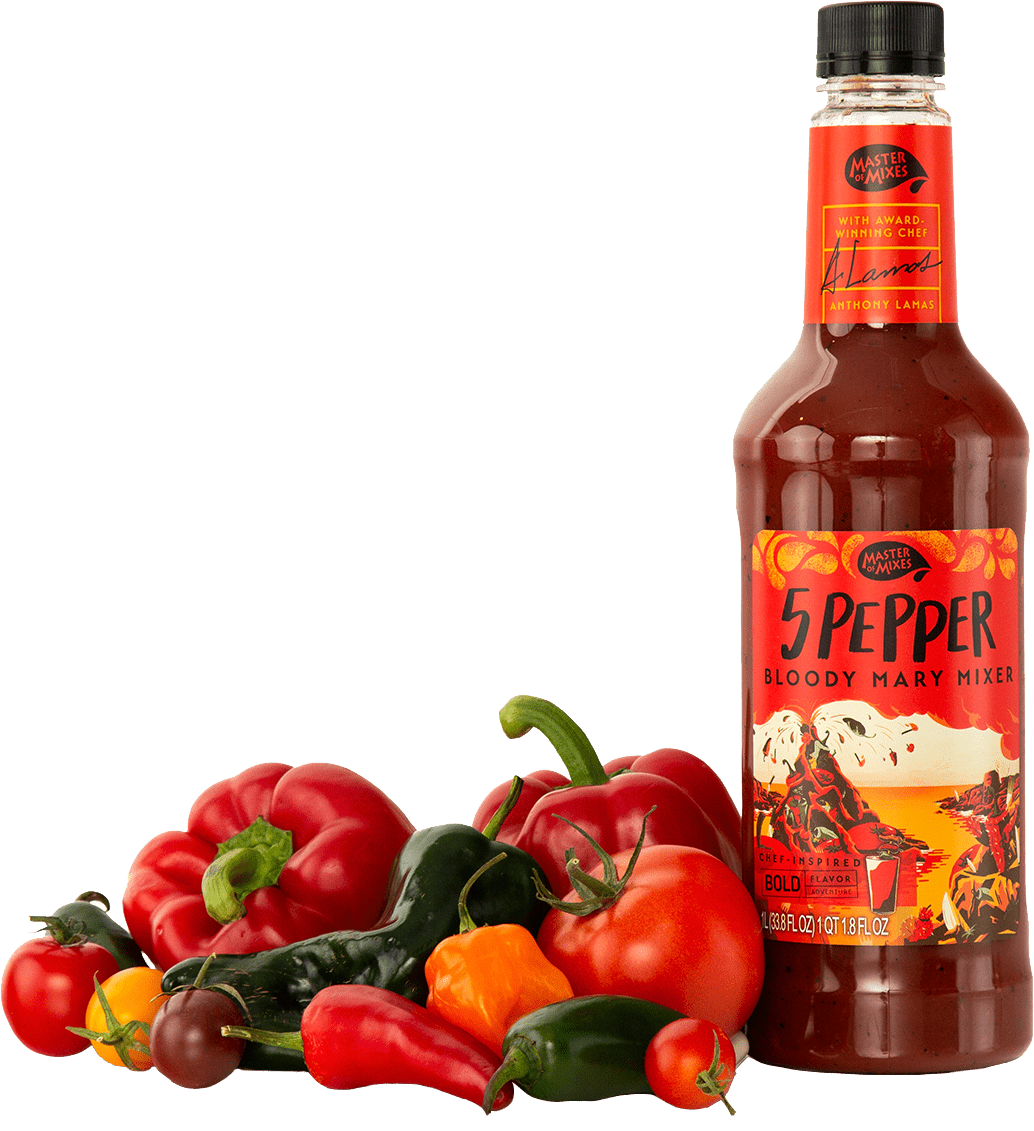 "The Spiciest Bloody Mary on the Shelf!"
Jam-packed with chipotle, ancho, habanero, jalapeño, and red peppers.
This red-hot mixer is the perfect blend of savory and spicy for a taste that will surprise and delight without killing your taste buds. Consistently rated as one of the best (and spiciest) mixes on the market, Master of Mixes Bold Flavor 5-Pepper Gourmet Bloody Mary Mixer is not for the faint of heart. Turn up the heat and enjoy a Bloody Mary unlike any you've ever encountered!
"5 Pepper offers an enticing, spirited, intensely spicy flavor profile that is bold yet doesn't linger." -Chef Anthony Lamas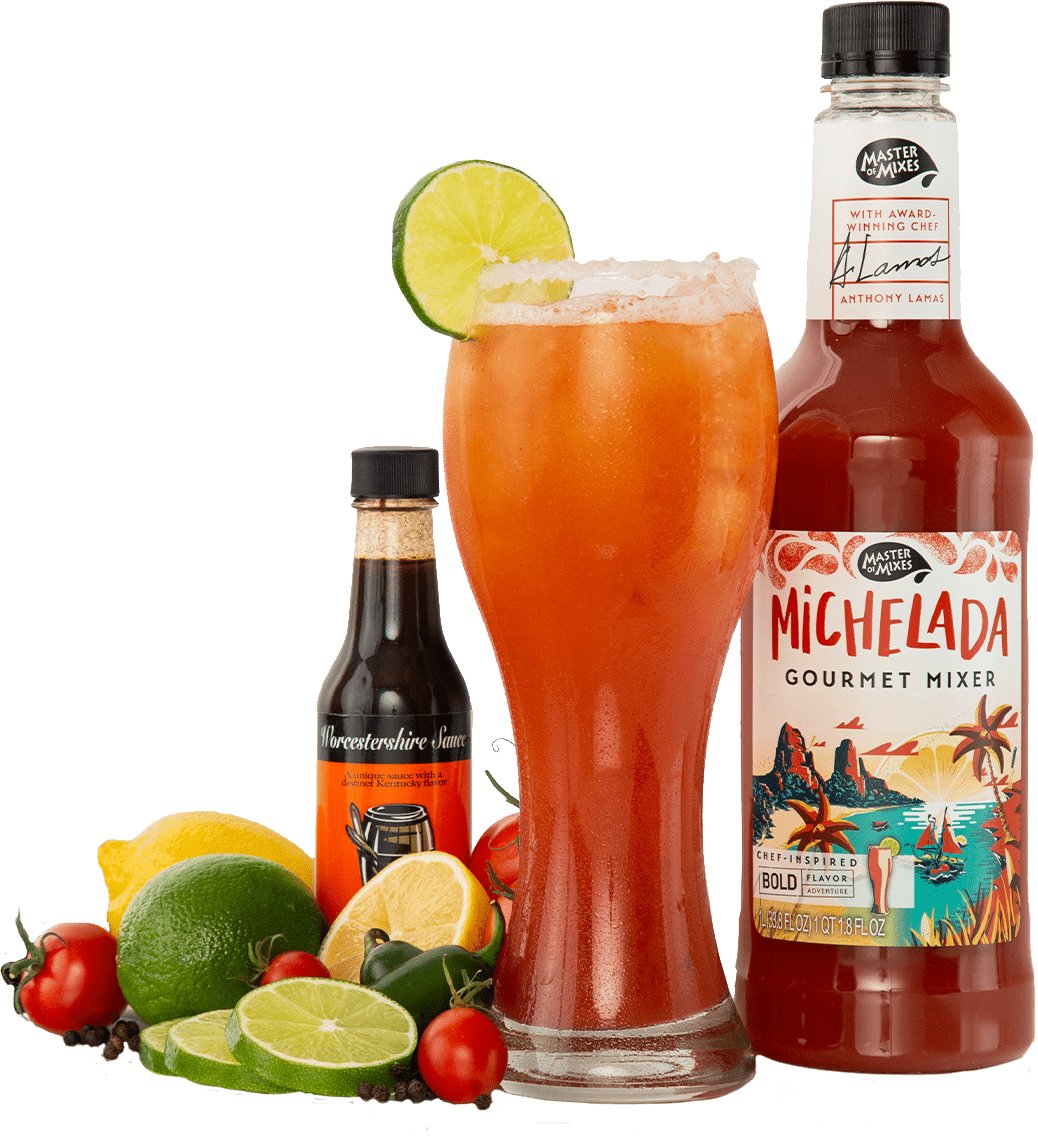 "Savory, Bold and Refreshingly Spicy"
A fresh blend of tomato juice, lemon and lime juices, spices, umami and our secret blend of peppers.
A refreshingly bold combination of citrus and spice, Bold Flavor Gourmet Michelada Mixer is everything you need to craft the perfect michelada; just add your favorite beer! Be the trendsetter by exposing your friends and family to this fast-growing cocktail style and set the bar high with this premium mix that features 69% juice for a fresh tasting cocktail!
"Michelada is refreshingly bold with the perfect amount of citrus and spice. These bold and lively flavors are the perfect profile to complement beer and allows the spice to truly shine through." -Chef Anthony Lamas